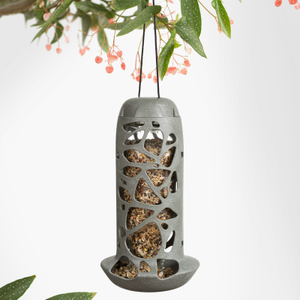 Singing Friend Tara Bird Feeder Recycled Grey | SFZ002
Convenience serves people. And in this case also the bird. Tara feeds birds in a convenient way and is also multifunctional. For example, suet balls fit perfectly in it, but you can change it into a sunflower seed or bird seed dispenser in no time with the included glass bottle. And she does all this without burdening the earth, since Tara is made entirely from recycled material – the insides of old drinks packaging.
Tara likes to hang in a rope, so you can easily let her swing playfully in a tree. It is also suitable for suet balls , suet pellets and other types of birdseed.
Web Enquiry
---
---
We Also Recommend